What Is Dye Sublimation?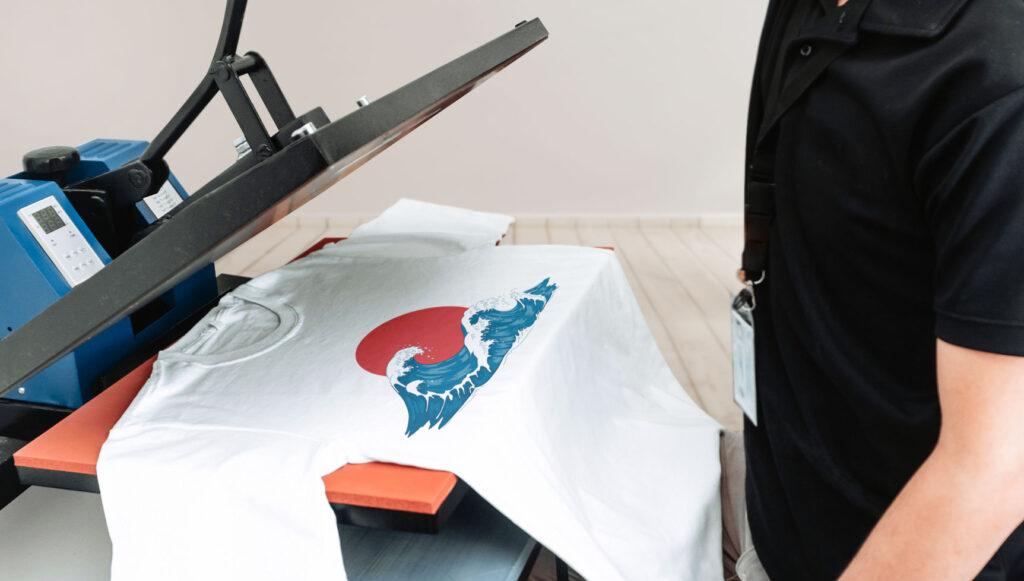 Want to get into the world of personalisation? If you're planning to start a business with personalised products, sublimation printing is one of the easiest techniques to learn.
Keep reading to find out what is dye sublimation, what you'll need and how to sublimate step by step.
What is dye sublimation?
Sublimation is a personalisation technique that allows you to transfer an image onto a polyester garment or an item with a polyester coating to make it unique and exclusive.
To print your substrate, you need to apply heat using a heat press. The temperature turns the sublimation ink from a solid to a gaseous state. As a result, the design printed on the sublimation paper will penetrate the surface of your object.
Using this method, you will be able to personalise objects professionally in just a few steps. Print with full colour-image results that won't crack, peel or wash away. Plus, this technique has a very low initial investment, making it an excellent option for starting a personalisation business.
What can I sublimate on?
You should be aware that not all products can be sublimated. For a substrate to be sublimated onto it needs to have specific characteristics:
The product must be white, also known as sublimation blank. Sublimation inks are transparent and add to the colour of the product. That is why the sublimation blank, both textile and rigid, must have a white background so that the colours of the original design are not altered. If your product is coloured, you could print it with a black logo, for example.
If you want to personalise a hard surface, it must be coated with a polyester-based material. Therefore, it is not possible to sublimate items that are not pre-treated. However, there is plenty of sublimation blanks to choose from. If you want to personalise a non-sublimation product, there are sublimation spray coatings that can turn almost any hard surface into a printable one.
If you're going to print fabric, you can only work on polyester garments or substrates with a polymer coating. Sublimation on cotton is not an easy task, but there are some solutions to apply sublimation on a non-poly fabric and achieve similar results.
What sublimation supplies do I need?
Assuming you already own a computer at home, you will only have to invest in:
A sublimation printer. When it comes to printing your designs, you must have an inkjet printer dedicated exclusively to this technique. There are printers specially designed for sublimation and others that have been adapted to work with sublimation inks. You can choose a small printer (A4 or A3) or a large printer. If you're just starting out, you should go for an A4 sublimation printer.
Sublimation ink. To guarantee a perfect result, the inks must be of the highest quality. Sublimation ink manufacturers must provide you with the ICC profiles for your printer model and ink type. This way, you can manage the colours from your computer to easily achieve a colour range that matches the original. When you print your design on sublimation paper, it will look duller. This is normal, don't worry. Once you transfer it, the colours will match the colours of the original image.
A heat press. Heat press machines allow you to apply heat and pressure for a certain amount of time in the personalisation process. There is a wide variety of heat presses, so to choose the one that best suits your needs you should consider the type of item you want to personalise, the size and your budget.
Sublimation blanks. As mentioned above, there is a wide catalogue of sublimation blanks. If you don't know where to start, we recommend T-shirts and mugs, as these are the most popular products among customers.
How does sublimation work?
Dye sublimation printing is a very simple process and the final result looks just great. So if you're getting started with this personalisation technique, these are the steps you should follow:
Choose an image on your computer. Feel free to edit it with a graphic design software if you want to. There is plenty of free graphic design software tools available nowadays.
Print it out. Remember to use a printer designed exclusively for this technique. We don't recommend converting a printer that has used regular inks into a sublimation printer. To do so, you should flush out the entire system.
Place the paper's printed side against the surface of the object you want to personalise. If you are decorating a mug, place the printed side of the paper against it and attach it with heat-resistant tape.
Put the item with the printed paper on the heat press, previously set to the required temperature, pressure and time, and press. The ink, activated by heat, goes directly from a solid to a gaseous state bonding to the surface of the object.
Remove the item from the press and carefully peel off the paper. We recommend using a protective glove because the press can reach very high temperatures.
Your sublimated product will be ready to sell in 5 easy steps. As we mentioned, sublimation is one of the easiest techniques out there, but there are always problems, mistakes and errors.
Conclusions about sublimation
🔥What is dye sublimation?
Sublimation is a digital printing technique for personalising products. It uses heat to transfer the design onto the surface you want to print on.
🥇What do I need to start sublimating?
To start sublimating, you need a computer, a sublimation printer, specific inks to work with this technique, sublimation paper, one or more heat presses and sublimation blanks.
✅ How does sublimation work?
Print your design with an inkjet printer on sublimation paper. Place the paper's printed side against the object you are personalising and press. Carefully remove the sublimation paper and you have your personalised product ready to sell.
🤔 What can I sublimate on?
One of the great advantages of sublimation is the wide range of items. You can customise both textiles and hard surfaces as long as they have a polyester coating. The items must be white since sublimation inks are transparent and add to the colour of the product.
---
As you can see, working with sublimation can be very simple, and the final result looks always great. Join one of the best personalisation techniques, and share your results!
Please, leave us a comment if you have any questions or need more help with any personalisation technique. You can also contact our Customer Service department.
Remember to check our social media, where we post plenty of ideas, offers and news from all areas of personalisation. Follow us on Instagram and Facebook to make sure you don't miss anything. Oh and don't forget to subscribe to this Blog and our Youtube channel to keep learning with us.
See you in the next post!