How To Choose The Right HTV Carrier Sheet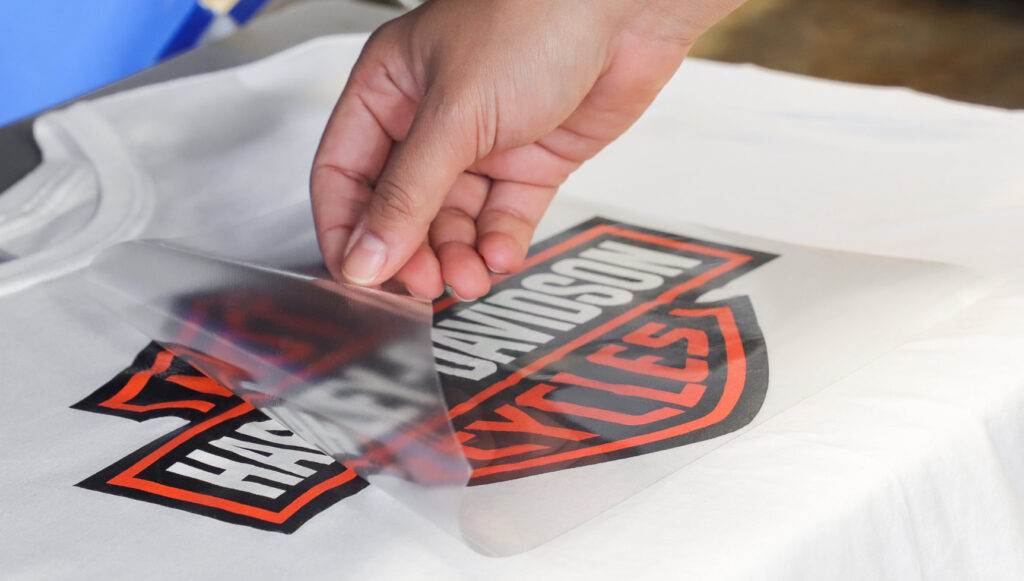 You will need a heat transfer vinyl carrier sheet if you really want to impress your customers. Layer multiple vinyls and be different. Interested? Don't worry, we help you choose the right transfer tape that best suits your needs.
What is a vinyl carrier sheet?
Well, a carrier sheet, also known as application or transfer tape, is and adhesive film.
In this case, we will focus on transfer tape for HTV. They are very useful to "move" designs made up of letters, images or drawings to the fabric where you want to apply them. This way, each element can be placed exactly where you wish.
At Brildor, we recommend the Poli-Tack application tape range to transfer HTV. Most vinyls for personalising fabrics come with their own carrier, but this is not the case for printable and sublimation HTV.
These carrier sheets in particular are made in Germany by Poli-Tape. They are perfect for printing heat resistant materials, especially with iron-on and sublimation or printable heat transfer vinyl. Here are some of their features:
The adhesive is resistant to high temperatures, ageing and UV rays
It resists the passing of time and can be removed without leaving residues
It comes with a built-in silicone liner that allows you to cut the vinyl to the size you want and use it at another time without losing effectiveness
This liner is textured, which will help you remove the design without much difficulty
Reusable. Durability depends on how well it is cared for. It must be kept away from dust, heat and humidity
TIP! When using the transfer tape with sublimation vinyl, remember that its polyester composition could transfer the ink. To avoid this, we recommend pressing it for a short time, removing the carrier from the vinyl, and pressing it again.
Which carrier should I choose?
This is one of the most common questions. To answer it: there are two factors to take into account: the type of vinyl and the design. Depending on this, you will determine the tack level (Low-Medium-High). Let's take a look at the different transfer tapes included in the Poli-Tack range:
PT 853: it has a low tack. Suitable for simple designs and flex and flock vinyls.
PT 870: with a medium tack, considered as universal. Indicated for flex vinyls with standard size designs without many details. Most commonly used
PT 854: also with a medium tack, it should be used in the same way as the PT 870. The difference is that it has a little more adhesion and it's also suitable for flex and flock vinyls. Therefore, it is recommended to try both of them and ipick the one you are more comfortable working with
PT 850: strong tack, suitable for flex and flock vinyls. Recommended for small designs or with a lot of details. If you use less adhesion in this case, the lines of the design would not "stick" to the transfer tape, which makes it difficult to work with
TIPS! Although the PT 853, PT 854 and PT 850 carrier sheets are suitable for flock vinyl, it is advisable to use a special one for this purpose: flock application tape. It's perfect if you work with non-smooth textured vinyls, both self-adhesive and heat transfer.
This transfer tape was designed for flock HTV, thanks to its dotted textured surface that doesn't damage the film when peeling it off. However, it also works with glitter and vinyl fabric or with other textures.
Another of its advantages is the resistance to high temperatures, ageing and UV rays. Moreover, its relief makes weeding easier.
When storing it, it should be kept vertically, in a cool, dry place and protected from the influence of light. It should not be left unused for more than 24 months.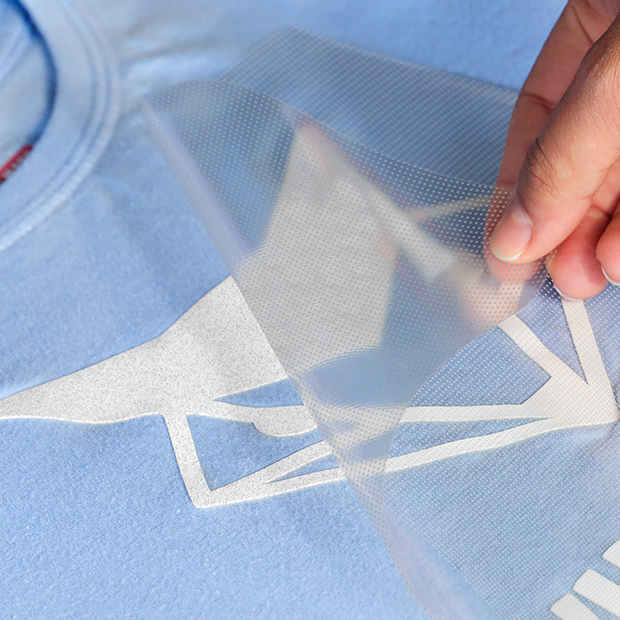 Comparison table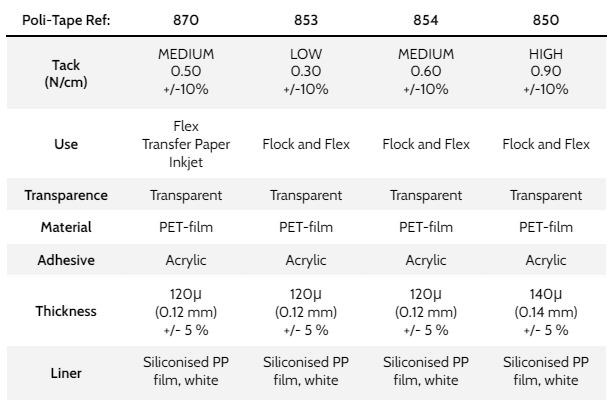 How to use a carrier sheet for HTV
The following steps are general indications. They may vary slightly depending on the application tape and the vinyl you use, but you should almost always do the following:
Weed out the vinyl
Peel off a part of the application tape and stick it onto the vinyl
Make it stick to it with the help of a spatula. Press from the centre outwards to avoid wrinkles
Pre-press the fabric to eliminate humidity
Place the vinyl with the hot melt side against the fabric
Press it once, following the vinyl's parameters you chose
Open the press and hot peel the transfer tape
Cover with protective paper, and press one more time to fix it properly
The carrier sheet can be reused in most cases. This will mainly depend on the adhesion and the condition of the material. When it wears out, replace it. Remember that you can find all the necessary supplies in our tools and accessories section.
Tips and tricks
Here are some practical tips so you don't make any beginner mistakes:
Wait for the printed ink to dry completely before applying the carrier. This will prevent migration and guarantee adhesion
Store the carrier rolls properly. This way you will not lose efficiency and will prevent damaging the film glue
Press hard on each part of the vinyl so that it sticks to the carrier. This will ensure that the vinyl is properly attached to the transfer tape.
Conclusions
🤷What is a vinyl carrier sheet?
A carrier sheet or transfer tape is an adhesive film. They are used to transfer your vinyl design to the surface where you want to apply it.
🤯How to choose a carrier sheet for HTV?
There are two main factors to be considered: the type of vinyl and the design. Depending on this, you will select the tack level (Low-Medium-High).
🤔How to use a vinyl carrier sheet?
Weed out the vinyl and peel off a part of the carrier. Stick it on the vinyl with the help of a spatula.
Pre-press the fabric to eliminate humidity and place the vinyl. Do the first pressing according to the parameters of the chosen vinyl, remove the hot carrier film and press again with the protective paper.
---
We hope all this information will be useful when choosing the carrier sheet that best suits your work. For any doubt, please contact our Customer Service department. You can also leave a comment, we will be delighted to hear from you!
Last but not least, don't forget to subscribe to this Blog, to our YouTube channel and follow us on Instagram if you want to get inspired and keep learning about different techniques.
Thanks for being there!