Top 7 Ideas For Personalised Christmas Baubles And Ornaments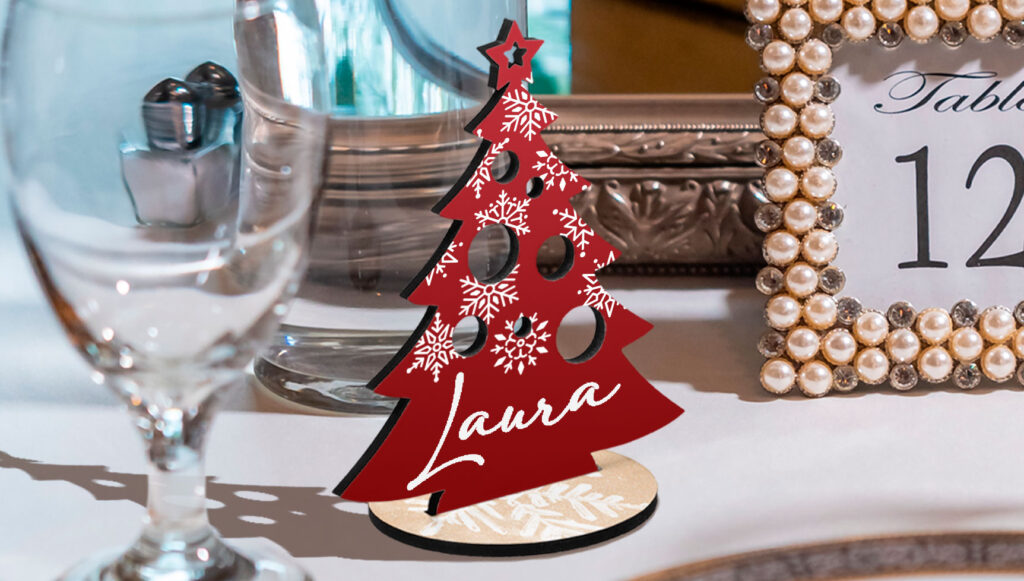 Christmas decorations and baubles are a classic that never fails, but each year we have to surprise with exclusive products. Here are 7 simple ideas to personalise your Christmas decorations in a unique and original way.
Christmas ornaments in the most special shapes
Personalised ornaments have taken the spotlight away from the traditional Christmas tree baubles. That's why at Brildor, we have created exclusive wooden shapes so that your Christmas products can be this holiday's stars.
This is a very simple product which can be sublimated on both sides. Personalise it with names, photos, and festive patterns... and top it off with a ribbon. It will immediately become a very sentimental object for your customers.
You can also find similar decorations made of acrylic, aluminium or cardboard. They all come with a white gloss finish polyester coating so that you can easily personalise them using dye sublimation printing.
If you don't own sublimation equipment, you may be interested in photo baubles. You could even go for these gnome Christmas decorations All you need is a home printer, scissors, and plain or photo paper.
If you want to go one step further and attract all eyes... You can exhibit your Christmas decorations with this reindeer-shaped display stand. Use it in shop windows, stands, Christmas markets or inside your shop. The display includes 36 ornaments that you can quickly personalise by adding pictures.
Christmas craft baubles
Christmas baubles can be found everywhere, but not everyone sells personalised Christmas baubles. The most basic ornament can become a bestseller if you give it a personal touch. Let's take a look at some ideas:
You could even decorate coloured baubles with self-adhesive vinyl. Choose a design, cut out the vinyl with a cutting machine and stick it on the ornament. The outcome will look great!
If you don't have time to create elaborate personalisations, you can also opt for photo Christmas baubles. All you need is a home printer, scissors, and plain or photo paper. A quick and easy way to offer original and personalised decorations to your customers. We have different Christmas baubles to choose from: XXL, heart-shaped, with Christmas scenes inside...
Christmas photo frames
Christmas photo frames are ideal for framing family photos at this time of year. These kinds of vintage-style embossed wood frames are perfect to decorate any corner of your home. At Brildor, you can choose from 6 different models, either portrait or landscape orientation.
Snow globes and stockings
Personalising snow globes or Christmas stockings is an original gift idea for the holiday season. Just like the photo Christmas baubles that we have mentioned before, snow globes and stockings can also be personalised with a photo. Remember that all you need is a home printer, scissors, and plain or photo paper.
For the photo snow globes, you can choose any snowflake shape that stands out to you: silver glitter, gold stars, red hearts or the well-known white snowflakes. There is also a deluxe model with a blue or green base.
Christmas home décor
Christmas lunch and dinner celebrations deserve to be properly decorated. Homes get fully packed with décor pieces to welcome their loved ones, like this Father Christmas door hanger.
When walking in, the table is one of the most important areas. There are plenty of Christmas decorations you can use, like these giant Santa hats for the back of the chair. Complete the pack with these trees with star. You can choose from four different models and sublimate them with the person's name and a photo or drawing. It's the perfect gift for family members since they can hang it on the Christmas tree afterwards thanks to its versatility.
Finally, the metallic effect sublimation mugs, great for coffee or hot chocolate.
For the little ones: colouring bags and backpacks
Colouring bags or backpacks are great for giving to children on the last day of nursery school before Christmas. They are also a popular gift for children celebrating their birthdays at ballparks.
Christmas greetings
And finally, the traditional greeting cards and 2024 calendars. Christmas cards are a very special way to thank your customers for being with you. If you fancy a more handmade touch, you can make them yourself with Christmas-themed cardstock and paper. Or use them to create envelopes, bookmarks, packaging decorations, notebooks and diary bindings.
As you have seen, there is a wide variety of very original Christmas decoration items. Start personalising these products and increase your sales during the Christmas campaign.
---
We hope you found this post useful. Have you already started personalising for Christmas? Let us know by leaving a comment and we'll be happy to get back to you. You can also contact our Customer Service department.
Remember to check our social media, where we post plenty of ideas, offers and news from all areas of personalisation. Follow us on Instagram and Facebook to make sure you don't miss anything. Oh! And don't forget to subscribe to this Blog and our Youtube channel to keep learning with us.